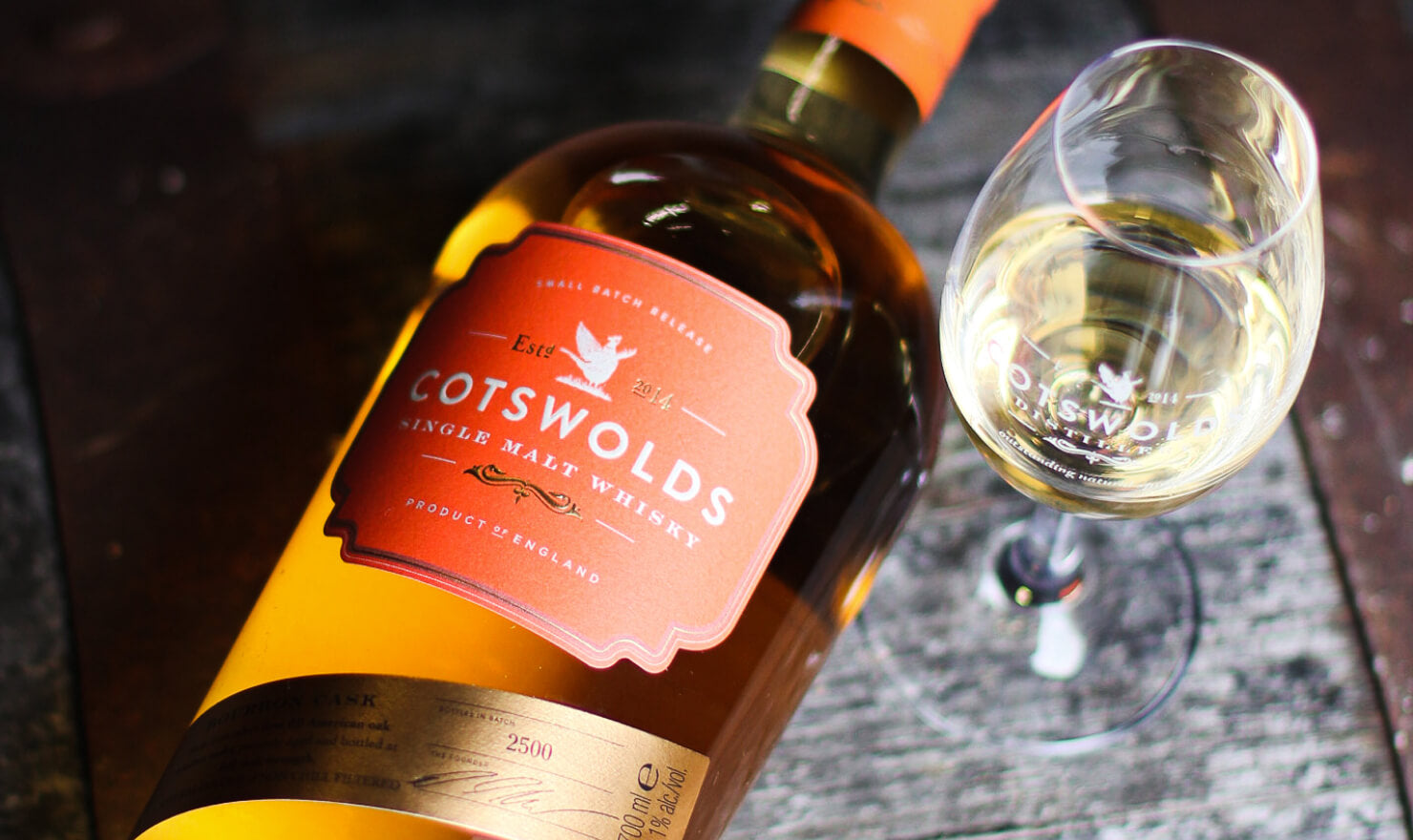 Our Cotswolds Bourbon Cask Single Malt Whisky is the final whisky to join our premium Cask Collection. Read on to find out more about this cask strength expression in an exclusive Q&A with our founder, Dan Szor.
Q: Do you tend to drink much Bourbon in your spare time?
A: I very much like Bourbon – the taste, the history and sense of place, and many of the famous people associated with making Bourbon. I go through Bourbon phases – the last one was in lockdown and I realised I needed more Bourbon, so I added 10-20 bottles to my whisky collection so that I could get to know and compare different styles. 
Q: Do you have any favourites?
A: My current favourite is Wild Turkey 101, which is just over 50% ABV and a very traditional high corn (75%) mash bill. It has a really full, big flavour, with a good balance between the distillate and the wood - which is how I like my whisky best. At £31, I think it's excellent value for money. Near the top of my bucket list is spending a few hours with Jimmy Russell, Wild Turkey's Master Distiller, who they say is the longest-tenured active Master Distiller in the spirits industry and still does a daily meet and greet at the Wild Turkey visitor centre!
Q: What inspired you to launch a Bourbon cask expression?
A: Bourbon casks are a great vessel for the maturation of good single malt, in that they provide wonderful flavours while not overwhelming the more delicate single malt spirit. I believe this is one of the reasons whisky purists love Bourbon cask-matured malts, as it allows the underlying distillery character in a whisky to be discerned.
We're extremely proud of the rich and fruity character of our new make single malt spirit – to the point of offering a small sample to every visitor to our onsite warehouse – so allowing this to shine through along with great flavours from first-fill ex-Bourbon casks make me very happy. 
Q: What is it that makes this Bourbon cask expression unique in comparison to other Bourbon cask-matured whiskies available?
A: I suppose the most unique thing about this expression is the quality of the underlying spirit – which goes into all of our expressions – and the fact that we use only the most premium first-fill ex-Bourbon casks. 
Q: Where do you source your Bourbon casks?
A: For the past six years, we have been buying our casks directly in Kentucky. Initially we used first-fill casks which came from a number of Brown Forman distilleries, such as Woodford Reserve, Jack Daniels, Old Forrester and Early Times.
For the past few years, we've been buying from Beam Suntory, owner of the well-known Maker's Mark brand. The casks we buy are their top-of-the-range premium casks which come from distilleries such as Bookers and Basil Hayden's. They have not been steamed – a process undertaken by many Bourbon distillers to wring out the last few litres of Bourbon from the staves after the barrel has been disgorged – which means there is more Bourbon (and more flavour) remaining in the wood when we receive the casks here in the Cotswolds.
Q: How does the Bourbon cask influence the flavour of this expression?
A: The most recognisable influence of a Bourbon cask on single malt is the wonderful effect of slow ageing in charred American white oak. This type of wood is excellent for the maturation of whisky in that it releases its tannins slowly, without overpowering the spirit with wood flavour, while allowing the wood sugars to come into the spirit giving it the honey, vanilla and crème brûlée flavours characteristic of Bourbon cask maturation. There's even a bit of toasted coconut, if you look hard enough!
Q: Would you say this is a whisky for whisky purists?
A: This is a whisky for those who love whisky, beer and all things malt. It really shows off our locally-grown, floor-malted Cotswold barley in its best light. 
Q: What should people notice when drinking this whisky?
A: When drinking this whisky, think about the grain. If you've ever visited our distillery and been lucky enough to time your tour around the first water of our mash, then you've had the chance to stick your head inside a mash tun with 500kg of grist being mixed with steaming hot water into an enormous vessel of porridge, in effect. Those malty notes – almost like a warm mug of Horlicks – are reflected in the aromas and taste of our Bourbon Cask Single Malt Whisky. 
Q: How would you recommend people drink this whisky? 
A: Though I am a purist and enjoy my whisky neat at room temperature, I would say that this whisky is robust enough to handle bitters (for an Old Fashioned), vermouth (for a delicious Manhattan), or even a splash of soda over ice in a highball. As it is cask strength, it will stand up to ice and still assert itself even through dilution. 
Q: Do you plan on releasing any more cask expressions?
A: We will certainly be releasing more cask expressions – things that come to mind are Port and Madeira, as well as a number of other cask types made from both American and European oak; these are, however, likely to be limited releases as the four members of our Cask Collection (Founder's Choice (STR ex-red wine cask), Sherry Cask, Peated Cask and Bourbon Cask) together represent over 95% of our wood programme.
We may decide to tweak this fill programme slightly – so keep your eyes on the development of our range over the years to come, it's exciting stuff!