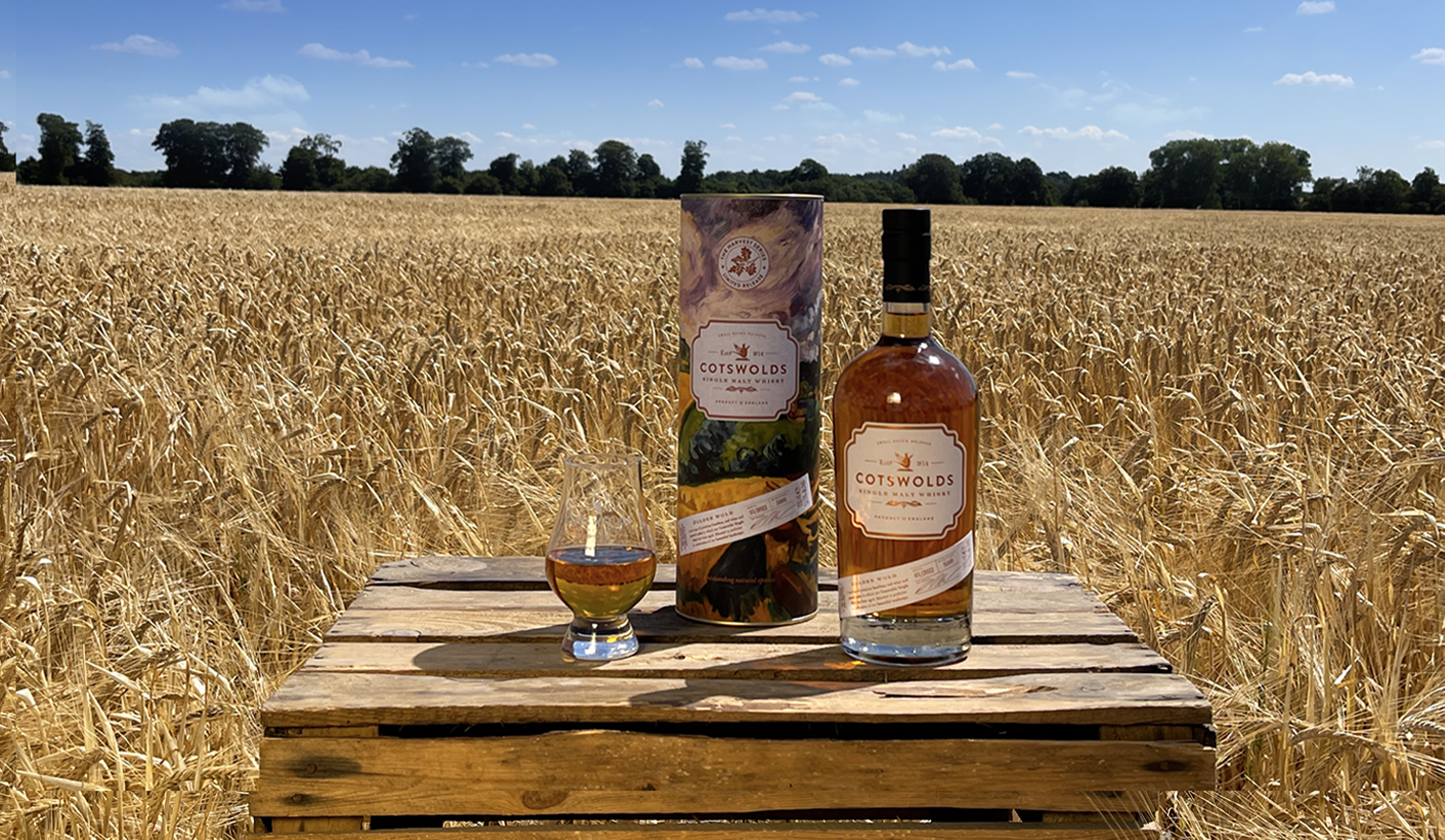 Not only does September herald the start of cooler evenings, shorter days and the end of summer it is also a time to celebrate the start of autumn with glorious sunsets, a riot of colour as the leaves turn golden and the harvest being brought home.
To honour the gathering of the harvest we have launched a new Harvest Series Collection. The first limited edition whisky to be released in the collection is Harvest Series Golden Wold, a blend of selected ex-Bourbon, STR red wine and peated casks.
Our Founder, Daniel Szor, was first inspired to make whisky whilst looking at the spring barley fields around his home.  Since 2014, when the distillery first started making whisky, he has been committed to using only 100% locally grown barley.
The Harvest Series will be released once a year and will be sold in a beautiful gift tube featuring an original landscape painting by a different artist for each limited edition release, the first of which is by renowned local artist Josephine Trotter. It perfectly illustrates Brailes Hill, near the distillery, a prime example of the iconic rolling hills of the Cotswolds.
Cotswolds Golden Wold is a smooth and mellow blend which harmoniously brings together the beautiful Cotswolds landscape at the end of summer and shows off the rich and fruity character of our single malt spirit.
Our founder, Dan Szor tells us more about it in our latest Q&A:
What inspired you to create The Harvest Series Collection?
The appeal of the Cotswolds comes from the specialness of the land, and there are certain times of year where the landscapes we live with are even more special – one of them being late summer and early autumn.  At that time the contrasts in colour, in temperature, even the aromas around us are marvellous and beguiling, and I felt this was a perfect theme for our new yearly autumn limited release.  And just to prove that this comes from my heart and not my marketing department, I took a photo this morning in back of my farmhouse of the field next door (which is actually the one in which I had my "barley epiphany" in the summer of 2012) which was harvested just this past weekend.  The left-over wheat stubble has created the most wonderful golden hue, and scenes like this – which we are fortunate to have in abundance here – are what continue to inspire me to work and live in the Cotswolds. 
What does the blend of the three different casks bring to Cotswolds Golden Wold?
Our core range of 6 whiskies features flavour profiles which are drawn largely from single cask types (such as Bourbon, ex-Red Wine, Sherry and Peated).  For our Autumn release I felt we should focus on the art of blending, through which can create a whole, which is greater than the sum of its parts and have some fun putting building unique flavour profiles.  In this bottling I feel that the slight presence of peat complements the sweet notes of our Bourbon and ex-Red Wine casks, evoking the wisp of smoke you might notice in the countryside as the nights draw in.
Why did you choose Josephine Trotter as the artist for the first limited edition?
I've known of Josephine Trotter and her work since before the distillery was built, as our families are close, and I've had her prints up in my home for years – I've always admired her impressionistic approach to making Cotswolds landscapes come alive.  The impressionists were all about an emotive style of painting and depicting how the land makes you feel.  This is exactly what we want to convey to our customers, how special the landscapes around us really are.  You might even say that Josephine is our local Cezanne, and Brailes Hill is her Mont St. Victoire!
How would you recommend drinking Cotswolds Golden Wold?
I am a firm believer in drinking whisky however it suits you best, there is no right or wrong way.  My personal favourite is a small dram neat in a Glencairn or Copita tasting glass or any other vessel that allows the aroma to collect and linger.  I start neat and then add a few drops of water, watching the oils swirl as flavour and aroma are released.  This is a wonderful whisky to drink on the rocks, with a splash of soda, or even in a highball.  I think its fruitiness would make it wonderful in a Boulevardier (basically a whisky Negroni, made with bitters and vermouth).
Click on the link below to buy your bottle:
Harvest Series Golden Wold Single Malt Whisky | Cotswolds Distillery  - RRP: £99.95 ABV: 52.5% - A limited release of 5,000 bottles
Nose: Honey and vanilla, a touch of peat smoke.
Palate: Creamy, sweet coconut with a hint of spice.
Finish: Vanilla, subtle peat.