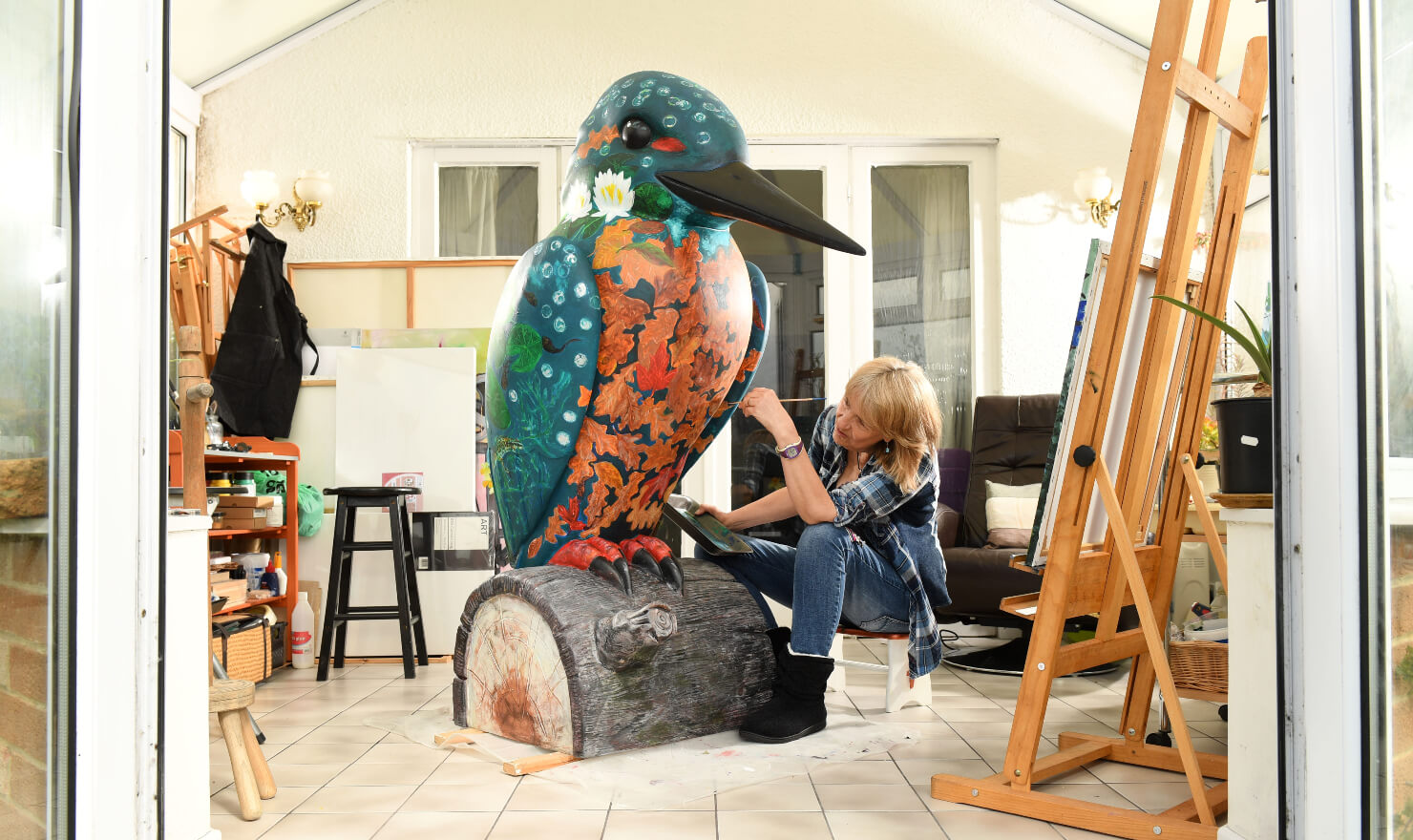 This summer, you may notice some 7ft tall, beautifully decorated kingfisher sculptures dotted around the Cotswolds as part of the Cotswolds Kingfisher Trail 2021 - a public display arts trail designed to bring businesses, arts and local communities together with the overall aim of raising funds for vital conservation work of the Cotswolds National Landscape. As part of the Kingfisher Trail 2021, we will be hosting our very own kingfisher here at the Cotswolds Distillery this summer!
Organised by the team at conservation organisation Cotswolds National Landscape, the Kingfisher Trail will encourage people to discover the giant kingfisher sculptures in villages and towns across two distinct routes connected to our rivers - the Severn Trail in the West and the Thames Trail in the East.
The kingfisher has been chosen based on its reputation as a resilient and adaptable bird – characteristics shared with the communities and businesses the trail seeks to support as we all begin to recover from the coronavirus pandemic.
The Cotswolds Kingfisher Trail will have 22 dazzling sculptures – all supported and creatively designed by celebrated national and local artists, led by internationally renowned painter, PJ Crook MBE. 
 At the end of the project, all of these wonderful sculptures will be auctioned to art lovers and businesses to raise funds for the vital conservation work of the Cotswolds National Landscape. The money raised will be used to help local schools take part in a rural skills experience, giving children the opportunity to learn a new skill in the countryside, and will also help Cotswolds National Landscape employ an Education Officer which will help children understand what makes the Cotswolds special and help them to develop a long lasting appreciation and connection with nature. 
From the Spring Bank Holiday in May until October half term, residents and visitors are invited to follow the Trail, get out into nature and enjoy the outstanding natural beauty of the Cotswolds region. We'll be hosting the Flying kingfisher, which will swoop to a new location every two weeks, on the following dates:
Monday 31st May - Monday 14th June
Monday 26th July - Monday 9th August
Monday 4th October - Monday 18th October
An app will be launched to coincide with the start of the Kingfisher Trail that will allow you to 'tick off' the kingfishers over the course of the summer, so start planning your kingfisher spotting now and whilst you're here, be sure to stop for lunch in our café or browse our range of Outstanding Natural Spirits in our shop!