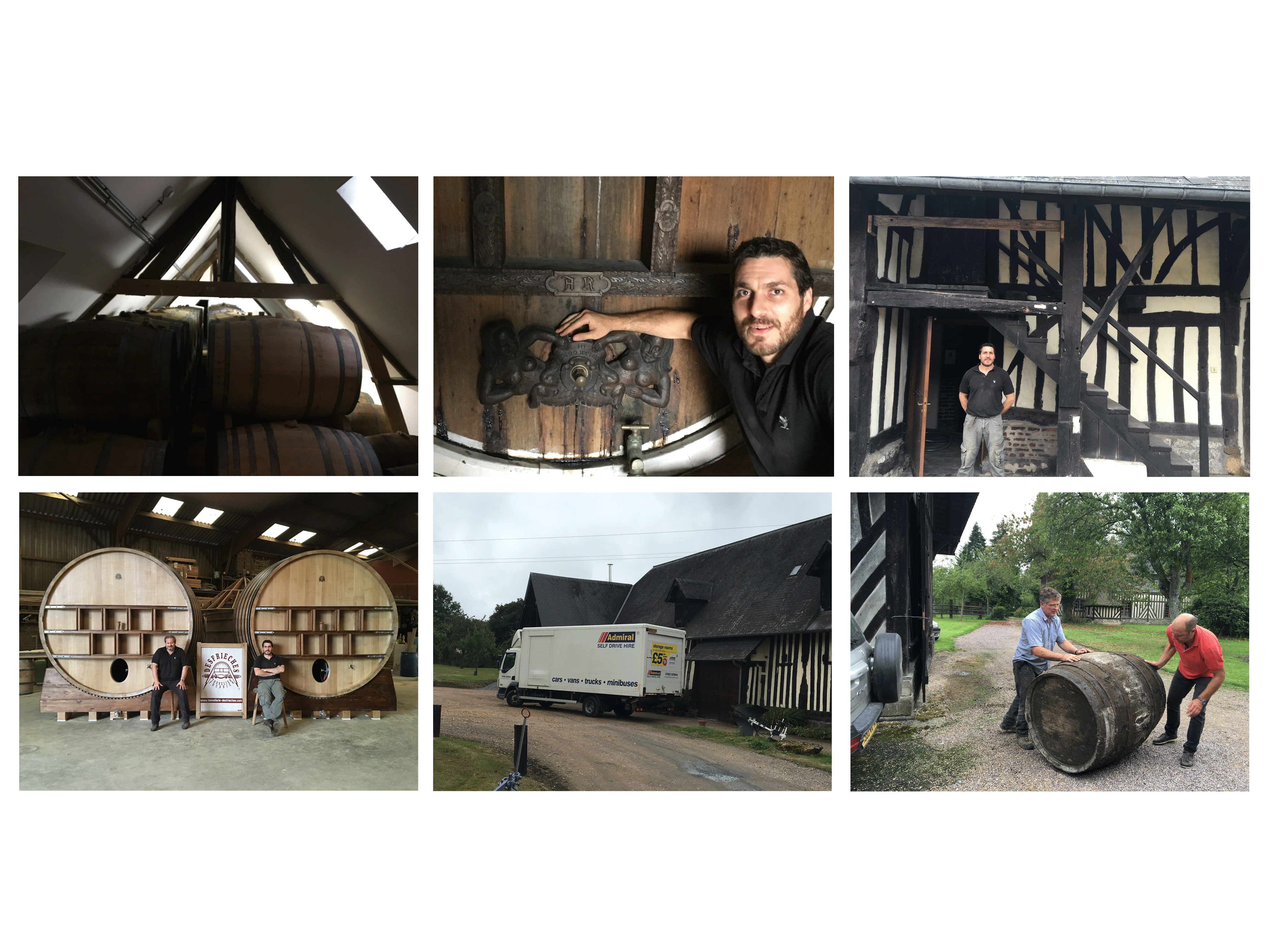 This week marks the debut of the first ever expression of Cotswolds Single Malt Whisky fully matured in Calvados casks which were hand-picked by our founder, Dan and head of production, Nick in Normandy back in September 2016. 
During his 11 years in France, Dan spent weekends in a small cottage in the Pays d'Auge, the wonderful region of the department of Calvados, from which the local apple brandy has derived its name.   Dan developed a love for the area and its well-known spirit, and years later when he set up Cotswolds Distillery, he even started making yearly batches of "Cotswolvados" (a name we use very quietly) in our beautiful Holstein still, using local apple cider from Moreton-in-Marsh. 
Dan always wanted to age our whisky in Calvados casks, however these are not so easy to come by.  Firstly, they were forbidden for many years in Scotland for use in aging whisky (which thankfully is no longer the case), and secondly Calvados distillers tend to hold on to their casks for a very, very long time. 
And so it was that Dan and Nick decided to take matters into their own hands. One weekend, nearly 6 years ago, they rented a truck, which they drove to Portsmouth and onto an overnight ferry to Le Havre.  Upon arrival, they headed straight to some of Dan's favourite Normandy distilleries and cooperages.
First off, it was the well-known Christian Drouin distillery near Pont l'Eveque, where third-generation Guillaume agreed to part with a number of beautiful oak barrels used for years to mature Calvados. 
Later, it was off to the Tonnellerie du Pays D'Auge, where cooperage owner Valery Desfrieches (whose brother runs the wonderful Pere Jules distillery just across the road) showed off his craft: from enormous oak beer vats to more manageable barriques, which were promptly added to their cache. 
The last (and certainly not least) stop was the famous Domaine de Semainville, where the sons of Adrian Camut have been making amazing Calvados the old-fashioned way (on a wood-burning direct-fired still) for years.  The always-charming Emmanuel Camut provided some incredible samples (including a 75-year old rare bottling) and also sold some of his oldest and biggest barrels. 
With the truck filled to the brim, it was time to tuck into a wonderful meal at the nearby Pot d'Etain bistro, before catching the night boat back to England in time for work the next day.  As soon as the casks were unloaded, they were filled with new-make whisky, and the first of these now graces our visitor centre where customers are able to fill their own bottle.  It is an absolutely unique bottling, deliciously marrying our lovely full-flavoured single malt spirit with toffee and apples.  A great holiday present for the whisky connoisseur in your life, and a unique treat for the longer nights - make sure to come by the visitor centre and pick up a bottle of Cotswolds Distillery history, before it's all gone! 
Cask #813. 62.9% abv. £94.95. Available exclusively at our distillery and off site shops.