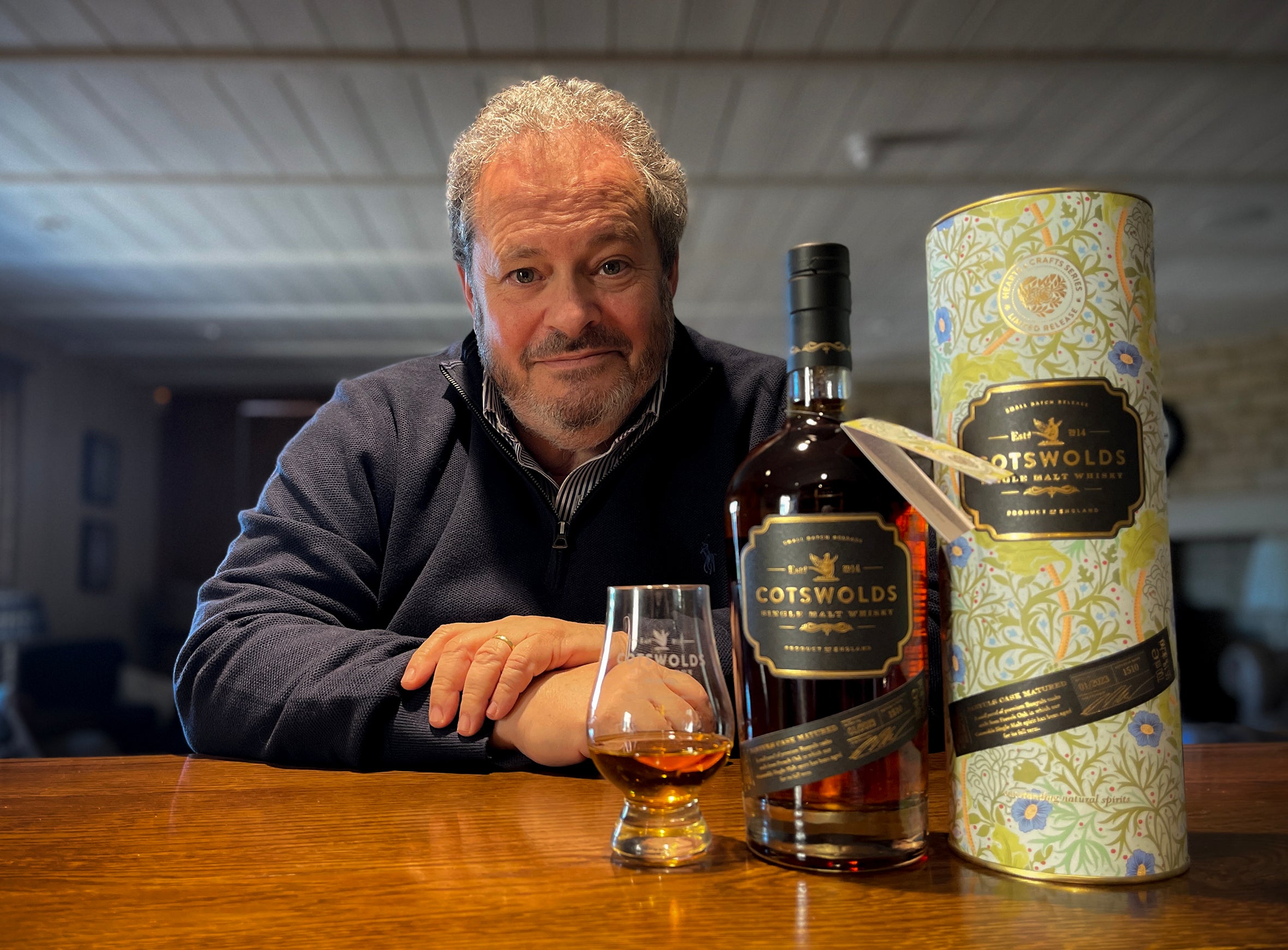 Our Hearts and Crafts collection takes its name from the 'heart' cut of the spirit run during whisky production and the renowned 19th century Arts & Crafts movement which thrived in the Cotswolds and placed great emphasis on traditional craftsmanship, reflecting the values of our distillery.
As our founder, Dan Szor explains:
'The Cotswolds has strong links to the movement and the beautiful charm of the area epitomised the rural, pre-industrial way of life which urban followers of the movement had been longing for. The revolutionary British designer and leader of the movement, William Morris, whose beautiful patterned designs we use to decorate our Hearts & Crafts tubes, would spend much of his time at his Cotswold country retreat, Kelmscott Manor, and nearby Chipping Campden even became home to the Guild and School of Handicraft, one of the most important Arts and Crafts workshops of the time.'
To mark the recent launch of Hearts & Crafts Banyuls Cask, Dan shares the inspiration behind this limited edition fourth expression in this Q&A:
Q: Why have you selected Banyuls casks for this fourth Hearts & Crafts expression? How does it compare to the previous expressions?
A: We regularly taste through a variety of cask samples from our ever-increasing whisky stocks, and when all of us tried this small parcel of Banyuls-seasoned casks it was a no-brainer – we had to make them into Release #4 of our wonderful Hearts & Crafts series! 
I suppose that what all of the H&C releases to date have in common is that they're based on somewhat out of the ordinary "exotic" casks in which our Cotswolds Single Malt has been matured for its full term (and not "finished", a widely-used practice to infuse a bland whisky with a bit of flavour from a recently-emptied cask).   This makes them a "gourmandise", as the French call it, meaning something of an indulgence which is a bit unique – a special treat, you could say. 
Q: Where do you source your Banyuls casks?
A: All of the casks used in our H&C releases to date have come from a wonderful cooper based in Bordeaux, and who has access to ex-red wine casks from the region.  These casks are regenerated by stripping off a layer of wood, following which they are "seasoned" through a proprietary technique with high quality wines from around France and all over the world.  The quality is excellent, and the risk of unwelcome agents such as sulphur or bacterial infiltration is minimised. 
Q: How does the Banyuls cask influence the flavour of this whisky and how is it different to a port cask?
A: While the process of making Banyuls – known as mutage, where alcohol is added the must to halt fermentation while sugar levels are still high – is the same as that used in Port, the flavour of Banyuls is very unique.  Maturation takes place both in oak barrels and also in certain instances outdoors with direct exposure to sunlight.  The wine is typically a bit lower in alcohol, and with a pronounced chocolate taste (to me, anyway) and a slightly-oxygenated (Maderisé, they say in France) aspect. 
Q: What should people notice when drinking this whisky?
A: This is a not a difficult whisky to get one's head round – it is sweet and delicious, a real guilty pleasure!  The balance between the sweet Banyuls flavours and our fruity Cotswolds malt is excellent, and it has been bottled at a strength we believe really shows off the lovely and harmonious nature of this whisky – those with a bit of a sweet tooth will really love it. 
Q: Do you have any serve suggestions?
A: This would be a perfect after-dinner or late night whisky, served straight.  It also holds up very well cold with ice. 
Q: The design for the tube is another beautiful William Morris-inspired print, in keeping with the previous Hearts and Crafts releases. Are there any reasons for choosing this design for this new expression?
A: During his career William Morris created fifty different block-printed wallpapers, all with intricate and stylised patterns based on nature – particularly the native flowers and plants of Britain.  His wallpapers and textile designs had a major effect on British interior designs of the time, and late on the subsequent Art Nouveau movement in Europe.  We love having the chance every year to choose a new design, and having such a wonderful inspiration from something very native to the Cotswolds!
Hearts and Crafts: Banyuls Cask - Available online and in-store - £94.95
Limited to just 1510 bottles, be sure to get your bottle here while stocks last.