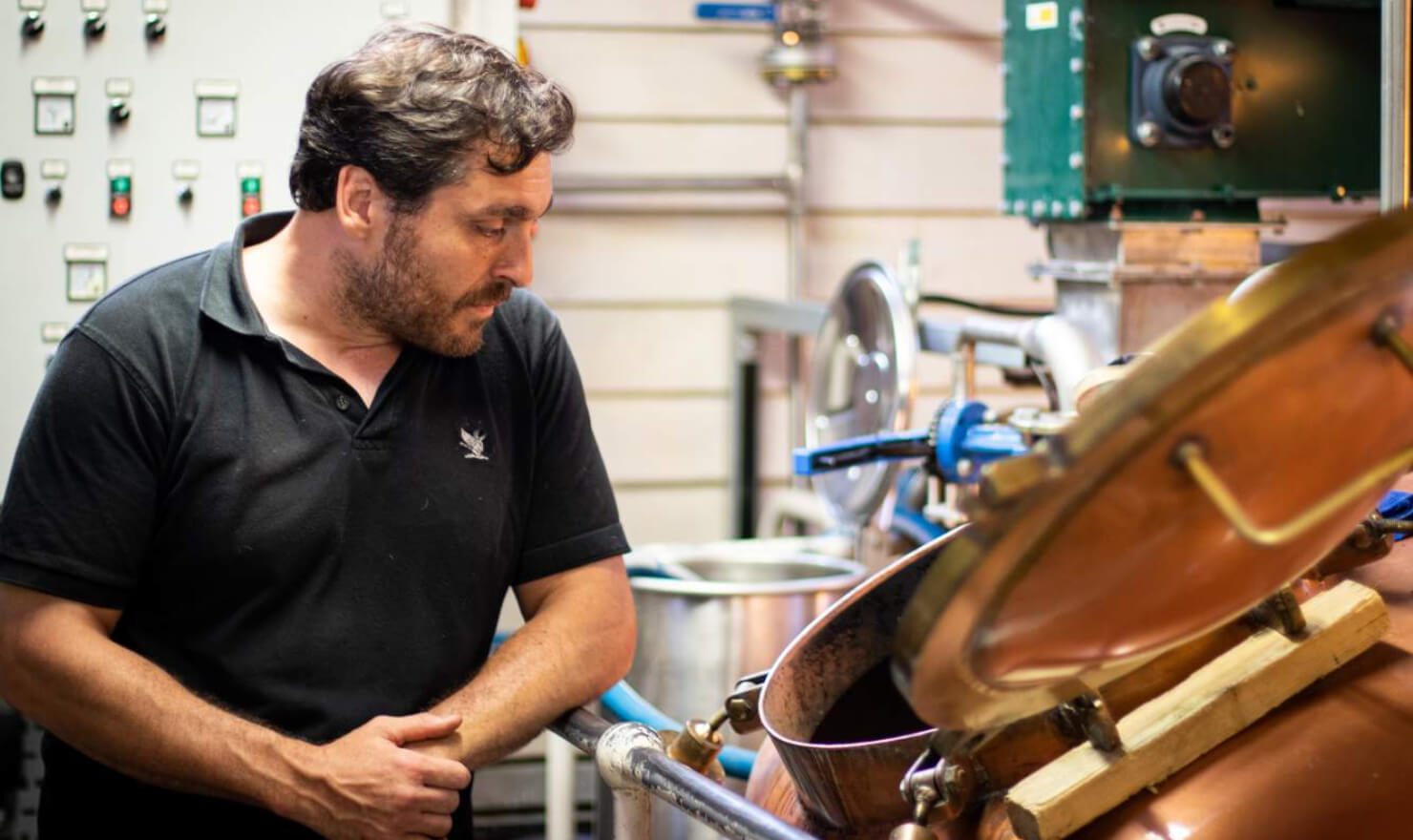 In 2021, we were incredibly proud to announce that after several years of intense study, our very own Production Director, Nick Franchino, was awarded the prestigious title of Master Distiller by The Institute of Brewing & Distilling. The IBD Master Distiller qualification is the pinnacle of professional distilling qualifications, and we are absolutely delighted to be able to say we now officially have a true Master Distiller as part of the team.


From ex-professional cage fighter to Master Distiller and keen distillery Bake Off instigator, let's find out more about the man who keeps a watchful eye over our gin and whisky production...
Q: Tell us a little bit about yourself.
A: I was born in NJ, USA but raised largely in Surrey, UK. When not at the distillery at the moment I am largely studying, cooking, whisky sampling and watching rugby.
Q: How did you start working at the distillery?
A: I took the IBD Fundamentals in Distilling to put a foot on the road to living and whilst doing the course I met Dan, our founder. I pestered him for a job and have been working at the distillery since day one back in 2014.
Q: What does your job involve?
A: I oversee the various departments that make up Production (Production, Logistics, Bottling, Warehouse and R&D) so there is a lot of plate spinning and it would take quite a while to even scratch the surface on an answer to that question.    
Q: What's your favourite thing about working at the distillery?
A: First thing in the morning when the mash is on with all its chugging, the stills are on full bore with the steam hiss, Creedence Clearwater Revival is on loud, tea in hand, sunrise over the hill, nobody in yet to bother me with incessant questions… I love it.
Q: What does a day in the life look like for you?
A: It might be a cliché but every day is different. I oversee a number of departments so any day could have me dealing with problems to do with NPD, Logistics, Bottling, Warehouse or Production. That is on top of my other main roles of sampling and sensory analysis, cover for whisky and gin production,  general production scheduling and so on. It's busy here, but ultimately very rewarding. In one of our production meetings the other day I said something along the lines of, 'We can look into that when we have one of our quiet moments'. You could have heard a pin drop.  I don't think anyone in production feels there are many quiet moments!
Q: Any embarrassing moments yet?
A: When we used to have to get the grain up above the hopper in a bag and a load spilled onto the floor. My suggestion that I was investigating "floor malting" was not believed.
Q: What's been your career highlight during your time in the industry?
A: On a personal level, being awarded a Master Distiller title by the IBD in 2021 after years of hard work, during which I learned a huge amount, was a significant moment.
From a team perspective, I would say the 2018 Craft Producer of the Year award. We work hard as a team and it is nice to be recognised for that. 
Q: What's your advice for someone who's looking to get into the spirits industry?
A: Don't give up. There are limited jobs and an increasing number of people looking to enter the industry so if you want in, you might have to wait your turn.  
Also, study. With how competitive it is, if you don't make the effort to learn why should you be hired? The IBD is an excellent provider of drinks industry training and education, from entry levels right up to the more technical and more senior material.  
Q: Where do you go for inspiration?
A: For inspiration I generally read historical and contemporary books on the industry…that kind of thing.
Q: What's your favourite Cotswolds Distillery spirit?
A: That would be our Cotswolds Signature Single Malt Whisky. Tasting a whisky is a very subjective experience as we all know, and I would say some of our other whiskies are probably a bit more 'luxurious', but our Cotswolds Single Malt was something we waited for on the edge of our seats as our first release and it will forever hold a special place in my heart because of that. 
Q: When you're not drinking Cotswolds, of course, what's your whisky of choice?
A: Bowmore Darkest. I like a bit of a sherry finish, and Bowmore is a great base spirit that takes it well. Also, my mentor in the industry, Harry Cockburn, was manager there for a number of years. It just all comes together in a great whisky.
Q: What's your favourite way to enjoy a glass of whisky?
A: Generally neat. On occasion with a very small drop of water. And at home I only drink with a very small tumbler. None of the fancy stuff. It's completely unnecessary to enjoy a whisky. 
Q: If you could have a drink with someone dead or alive, who would it be and what would you drink?
A: Jack Kerouac. On the Road blew my mind and made me view the world a different way. He could help me plan a few road trips worthy of writing about over a few drams of bourbon.
Q: Lastly, if you weren't working in the spirits industry, what would you be doing?
A: Hollywood. Obviously.