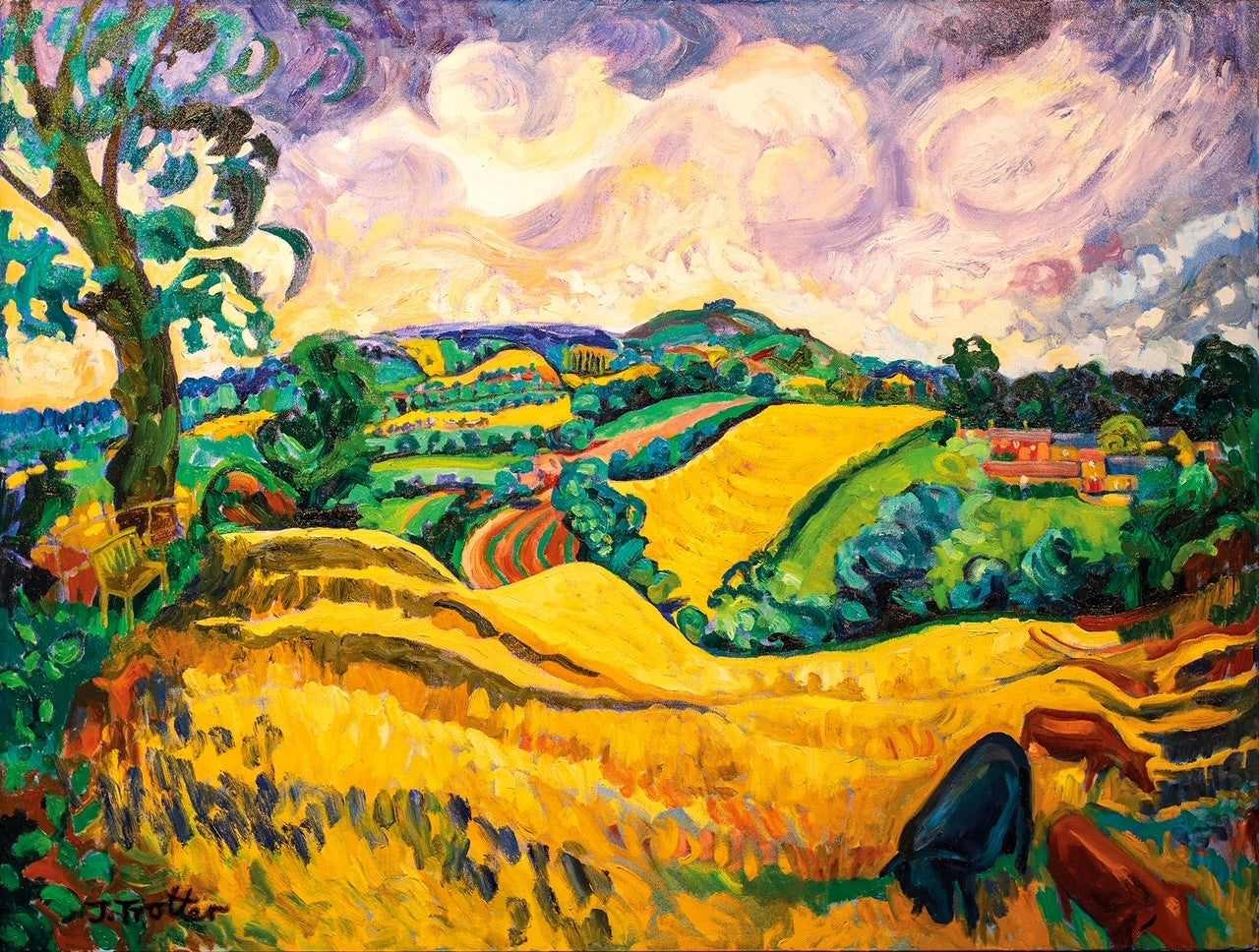 The renowned landscape artist Josephine Trotter has lived in the Cotswolds for 52 years and shares a love of the beautiful rolling countryside which surrounds our distillery. When our founder, Daniel Szor, first decided he wanted to champion local artists with the new Cotswolds Harvest Series, he immediately thought of Trotter. 'I've always admired her impressionistic approach to making Cotswolds landscapes come alive', says Dan.
In her early years Trotter was tutored and mentored by Maurice Feild, a Slade Professor, who encouraged her to paint en plein air. Feild restricted her palette to just five colours and it was only later, at Chelsea School of Art, that she really discovered colour. She remembers the first time she went into an art shop and bought five different greens and felt "very wicked".
Trotter loves painting her immediate surroundings, in particular Brailes Hill, the second highest peak in Warwickshire. She has also painted extensively throughout the British Isles, France and Italy and, in recent years, in South Africa, Egypt and India. This year saw her 25th solo exhibition, at Cromwell Place, in London, where she showed more than 60 landscapes, still lifes and portraits.
'Trotter is an artist working in the Post-Impressionist tradition, but her deeply felt, unmediated response to her subjects and her true understanding of the material quality of paint make her work personal and totally individual. Trotter is, without doubt, a painter in the truest sense of the word,' says Ann Dumas, Curator at the Royal Academy of Arts, London, and Curator of European Art at the Museum of Fine Arts, Houston, Texas.
The painting featured on the gift tube of the first release, Harvest Series Golden Wold, is 'Brailes Hill from Nill Farm', which beautifully depicts the lush, undulating hills, local to the distillery, dotted with vibrant fields of barley on a late summer's day.
We asked Josephine about her love of painting and her collaboration with us:
What do you love about Brailes Hill and the surrounding countryside?
Having lived in Oxfordshire for more than 50 years, the beautiful landscape has got into my soul. Brailes Hill is hugely important to my work because I have painted it from every angle and in every light. The more I paint Brailes Hill, the more I know it intimately. I have done dozens of paintings of it and every one is different. If anyone asks me why I keep coming back to it, I say "If Monet can paint 'The Haystack' 17 times why can't I paint Brailes Hill 127 times?"
What inspires you when you first look at a view?
When I am walking along, I suddenly come across something I feel I have to paint. I get an absolute bolt in the head. I can't explain it – it's very powerful. I like painting on location – in fact, I couldn't begin to paint any other way. I simply have to have the hype, and the gut feeling of the subject before me. I never create preparatory sketches or rely on photographs. I draw the broad outline of the composition with a brush loaded with thinly diluted paint and once a painting is finished, I don't revise it in the studio.
Do you think the light and colour in a view is important?
I always feel that painters look at things differently. I paint what I see. People say that I use strong colours but it is totally the way I see the world. I am fascinated by tone. If you look at a field the tones are very subtle, extremely close. I am an early morning person. I love the light at that time of day. It comes from always living on a farm. I dislike the 'flattening light' of midday and as the sun moves across the subject throughout the day, rather than adjusting the tones of my composition to the shifting conditions, I remain true to that first light which ignited my imagination.
Many people say they find your paintings healing and uplifting. Do you set out to elicit this response?
I never paint to please anyone else - the only way you can work is for yourself - but it makes me very happy that people come into my studio and think it's joyful. Joy is not a word I use casually. I think life is joyful and I want to express it.
 Do you have a favourite painter?
 Cézanne was my early maestro. I think Cézanne is the most intelligent painter. He really understands how to use negative space. I love Van Gogh and am fascinated that in the last two months of his life he painted 67 of his best oils. His exuberant use of paint is a big influence on me.
What do you love about living in the Cotswolds especially during the harvest?
I love harvest time in the Cotswolds because of the lines of the fields, the glow of the corn, which sometimes is about to be cut or it's being cut or ploughed up. I think the dark hedges delineate the bones of the landscape and the trees look tremendous against the stubble. All this is offset by the swirling clouds, which I love to paint.
How do you feel about being the first artist to feature on our new whisky collection?
I am very honoured to be chosen, especially as I feel that our worlds are connected. I distil the local landscape into art, just as the Cotswolds Distillery distils local barley into spirit. We are both mastering our art through different mediums, the Distillery through the art of making whisky and me through painting fine art. They are both instinctive, creative and natural processes and it is wonderful to collaborate with the Cotswolds Distillery.
Click on the link below to buy your bottle of Harvest Series Golden Wold:
Harvest Series Golden Wold Single Malt Whisky | Cotswolds Distillery  - RRP: £99.95 ABV: 52.5% - A limited release of 5,000 bottles
Nose: Honey and vanilla, a touch of peat smoke.
Palate: Creamy, sweet coconut with a hint of spice.
Finish: Vanilla, subtle peat.