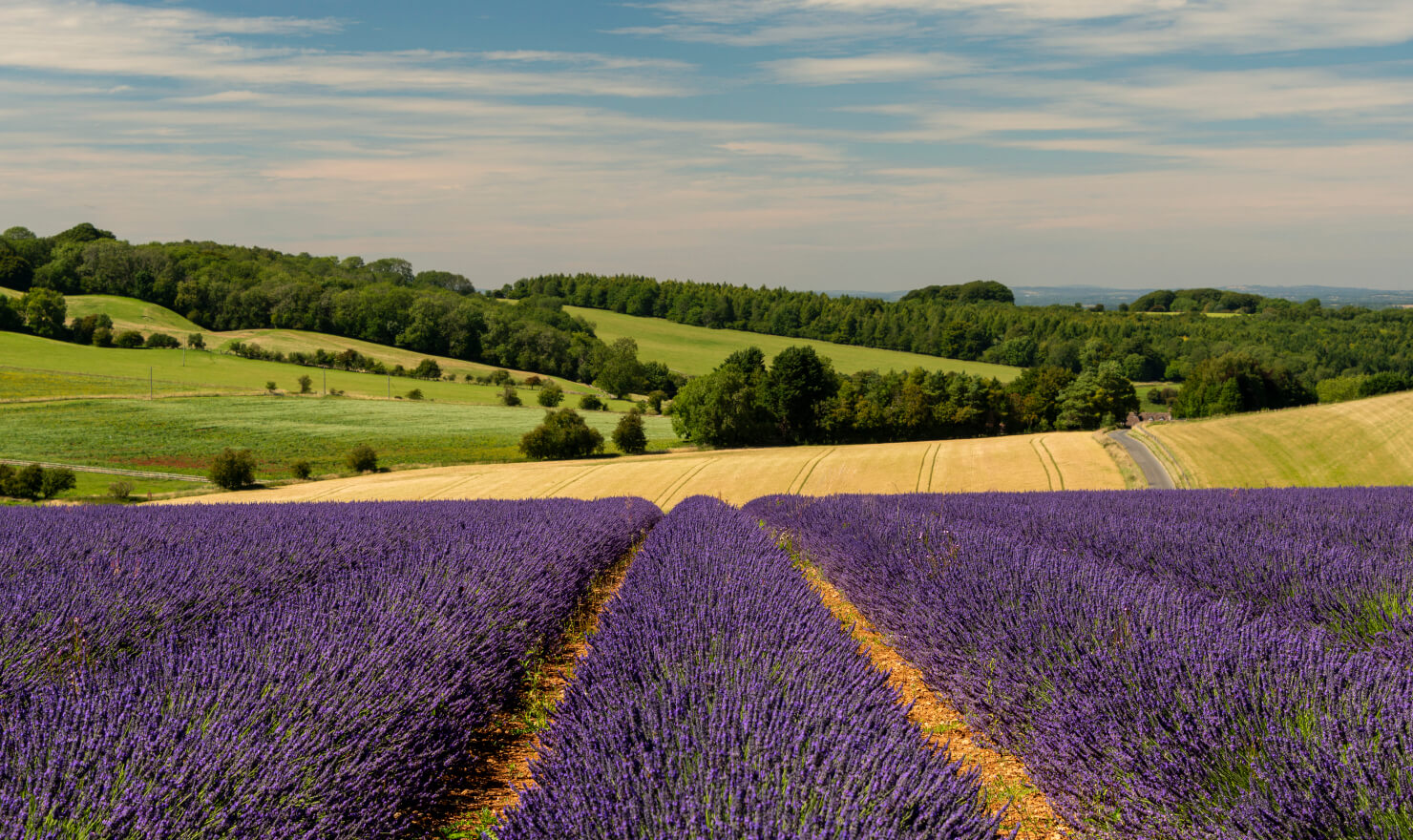 Lavandula, or lavender as we call it, is a sweetly-fragranced, purple-flowered perennial that belongs to the mint family. Thousands of people may flock to the South of France to admire the violet-hued fields of Provence, but did you know that the Cotswolds is also home to some beautifully enchanting fields of lavender? We strive to support our local community in the Cotswolds and source our ingredients locally where possible, which is why locally grown lavender is one of the nine key botanicals we use to make our Cotswolds Dry Gin.
The fragrant fields of Cotswold Lavender can be found on the hills surrounding the village of Snowshill, not far from Broadway and less than half an hour's drive from the distillery. The farm on which the lavender is grown has belonged to the same family for three generations, but it wasn't until 1999 that the family decided to start a new venture growing the plant. The free draining limestone soil found in the Cotswolds is ideal for growing lavender and the family now grows more than 500,000 plants and over 40 different varieties!
At this time of year the farm is open to visitors who are welcome to roam around the wonderfully-scented fields just before the lavender is harvested. On the farm, the team extracts the essential oils from the harvested lavender using a simple process known as steam distillation. Once the oil is collected, it is used to make a range of luxurious products, from teas and chocolates, to bath and skincare products, some of which we sell in our shops.  
Back in 2014 when we were devising the recipe for our Cotswolds Dry Gin, we were delighted to be able to use locally grown lavender as one of the key botanicals. When it comes to making our gin, we add the lavender to our base with the rest of the botanicals before slowly beginning distillation. As our gin is non-chill filtered, the essential oils released from the lavender and the other botanicals are retained instead of being stripped out, which gives our gin its distinctive, cloudy appearance when ice or tonic is added and results in a lovely, silky mouthfeel.
The soft notes of lavender in our Cotswolds Dry Gin really shine through, and we believe its bright character lifts our full-bodied gin. If you'd like to accentuate the delicate notes of lavender, then why not try adding a sprig of lavender from the garden or a couple drops of our Lavender Cocktail Bitters next time you're making a Cotswolds Cloudy G&T.