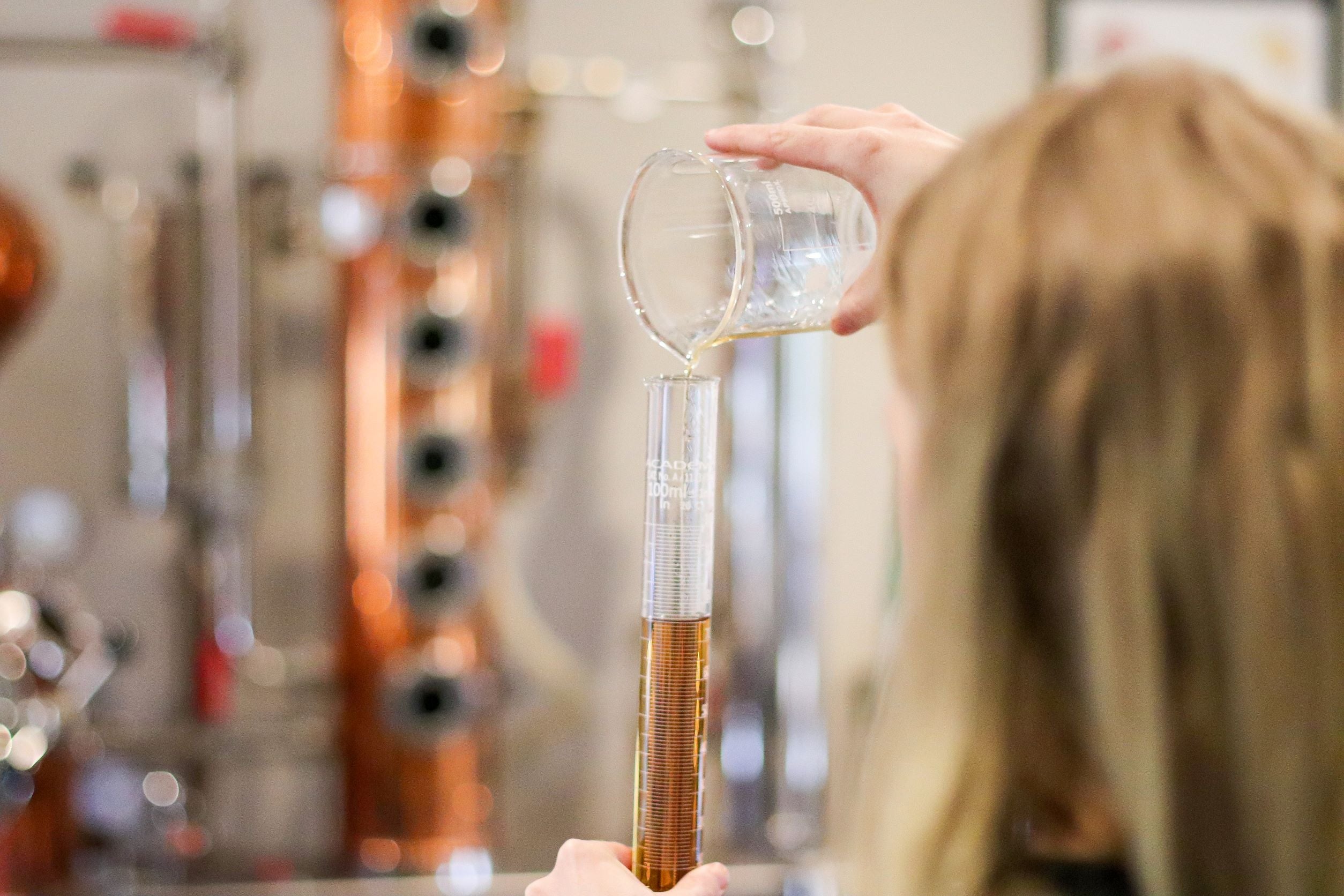 'I absolutely love the artistry of blending' says Alice Pearson, Whisky Distillery Manager at our distillery. 'I always relish the challenge and complexity of creating a new whisky'.
Although blending whiskies together is an age-old practice it is the art of finding the right whisky casks which is where the real adventure begins.
Alice started working at our distillery working in the shop, helping with tours and bottling before she became a Research and Development Assistant, where she trained for two years honing her senses and developing her talent and skills. She has also recently passed module 1 of her Institute of Brewing and Distilling Diploma in Distilling.
Alice has answered a few questions to help breakdown the myths surrounding blending whisky:
What drew you to blending and did you need any special qualifications or skills?
I still can't believe how lucky I am to have such an interesting job. I left school after taking A Levels in Art, Drama and Theatre and came to work here. I also studied Chemistry for one year and found it fascinating and although I didn't take an A level in the subject my interest continued as a hobby.
I love the combination of the art of blending mixed with science and statistics. The meticulous detail that is involved with finding the correct casks, ensuring that you have enough stock and then making certain that you have the right whiskies to marry together is fascinating.
I think my natural skill is being able to understand the data and thankfully having a nose and palate well suited to blending whisky.
How did you create Golden Wold the first whisky in the Harvest Series?
Dan Szor, our founder, is always the driving force behind any whisky creation. He asked me to develop a whisky which had a 'sense of smoke in the air' representing autumn/winter in the Cotswolds.
I always start with looking at the cask inventory, researching casks, price point, age and stock before sampling the numerous casks 'sleeping' at the distillery. We taste casks every week, so I usually have a rough idea of which casks are ready to use. But, I get really excited by undiscovered casks, as it is difficult to test every one and the casks are always changing and surprising. 
To create the wisp of peat I started with our peated casks and then added whisky from our ex-bourbon and STR red wine casks. These are jewels to any blend as they are often the oldest casks we have.
Whilst researching and testing, the final product evolves. We use a select in-house panel to whittle down the different variations to a 'winning' sample, which is then distributed to our sales and marketing team for some additional feedback before the launch begins.
Can you please explain about the three different whiskies in Golden Wold?
Our peated casks come from Islay, Scotland and our unpeated spirit is added to the cask. The residual from the original distillery's peated spirit in the casks adds subtle notes of peat smoke to our spirit but is much softer.
The STR American oak ex-red wine casks are beautiful. Our award-winning Founder's Choice Single Malt Whisky is from these casks. STR means shaved, toasted and re-charred, which was designed by the late Dr Jim Swan. The red wine casks have residual sugars left from the wine, the whisky does not develop a 'red wine' colour from the casks as most of the wine infused wood is shaved out, it's the toasting and charring which creates the colour. The toasting process creates a whisky from the caramelised wood sugars which is chocolatey with hints of toffee.
The premium American ex-bourbon first fill casks impart delicious notes of vanilla and honey.
If Golden Wold has been blended why is it a single malt whisky?
The definition of a single malt is that it is one malt from one distillery. Although Golden Wold is a blend of three different whiskies from our distillery, it is only the cask type which distinguishes each one and not the type of grain or distillery. They have been married together and then put back into their original casks to rest, enhance and soften, creating one complex single malt.
A blended whisky usually contains a number of whiskies from different distilleries and often grain whisky which acts as the canvas on top of which more characterful spirit is laid to create a blended product.
What do you love about your job?
There is so much that I love! The combination of intellectual and physical work. The whole process is interesting, walking around the warehouse and tasting the different casks, creating and tasting combined with understanding and managing our cask inventory.
The location of our distillery is beautiful, and I work with a great team. I was born and brought up locally and feel so lucky to be working here.
What are your thoughts on the first release in the Harvest Series?
What a whisky to launch our new series! Golden Wold is one of our best whiskies yet. We have used some of our most mature stock and it really does encapsulate walking in the stunning Cotswolds with a hint of smoke in the air.  We are only releasing 5,000 bottles and I am sure it will be a perfect addition to any whisky enthusiast collection.
Click on the link below to buy your bottle of Harvest Series Golden Wold:
Harvest Series Golden Wold Single Malt Whisky | Cotswolds Distillery  - RRP: £99.95 ABV: 52.5% - A limited release of 5,000 bottles
Nose: Honey and vanilla, a touch of peat smoke.
Palate: Creamy, sweet coconut with a hint of spice.
Finish: Vanilla, subtle peat.