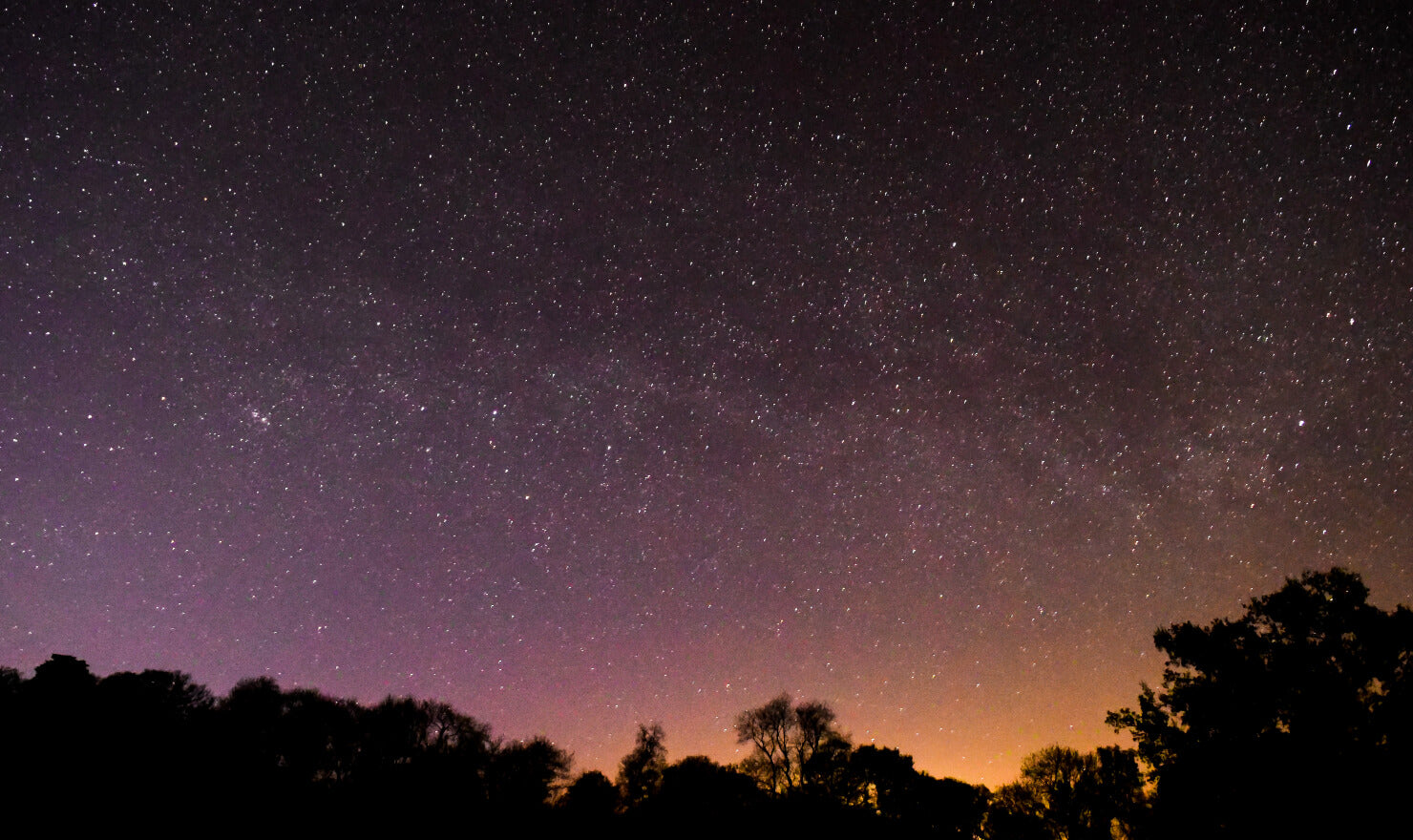 Strolling through bucolic rolling hills and honey-coloured villages may be what springs to mind when picturing the Cotswolds, but have you ever thought about venturing out into the hours of darkness to look up at the magical starry night skies?
Our founder and native New Yorker Dan has an infectious enthusiasm and respect for the dark skies of the Cotswolds. Having grown up amongst the bright lights of The City That Never Sleeps, it is perhaps little surprise that Dan's imagination has been captured by the Cotswolds skies. According to the Campaign to Protect Rural England (CPRE), parts of the Cotswolds Area of Outstanding Natural Beauty rank amongst some of the darkest skies in the country and therefore the Cotswolds is one of the best places for stargazing thanks to the low light pollution, open skylines and secluded spots.
As it happens, two sites not far from our distillery have already been recognised as Dark Sky Discovery Sites by the International Dark Sky Association – that is, exceptionally dark places which have public access and provide good sightlines of the sky. Aunt Phoebe's Recreation Ground in the centre of Long Compton and the legendary Rollright Stones near Chipping Norton, an ancient site home to a Bronze Age stone circle, both offer spectacular views of the Milky Way visible to the naked eye depending on the time of year and the lunar cycle.
Dark skies across the country are becoming increasingly rare, with only around 10% of the UK population able to enjoy an unobstructed view of our galaxy. Artificial lighting not only spoils the clarity of our starry skies, but also can affect the foraging and mating habits of nocturnal animals and new research even suggests light pollution can interfere with our circadian rhythm. As a treasured feature of the Cotswolds, Martin Lane, former Director of the Cotswolds Conservation Board, believes it is important that we try to conserve our dark skies and 'adopt measures to minimise existing light pollution'.
If you're interested in getting more involved, Go Stargazing provides information on the best places and times to catch a glimpse of the stars across the UK during the secreted night-time and lists any upcoming astronomical events, while the Chipping Norton Amateur Astronomy Group organises local public stargazing events and welcomes new members and visitors. Next time you're looking for something to do in the Cotswolds, don't forget to consider wrapping up warm and heading out into the countryside to witness our beautiful starlit skies!